Grizzer – Shedding Pattern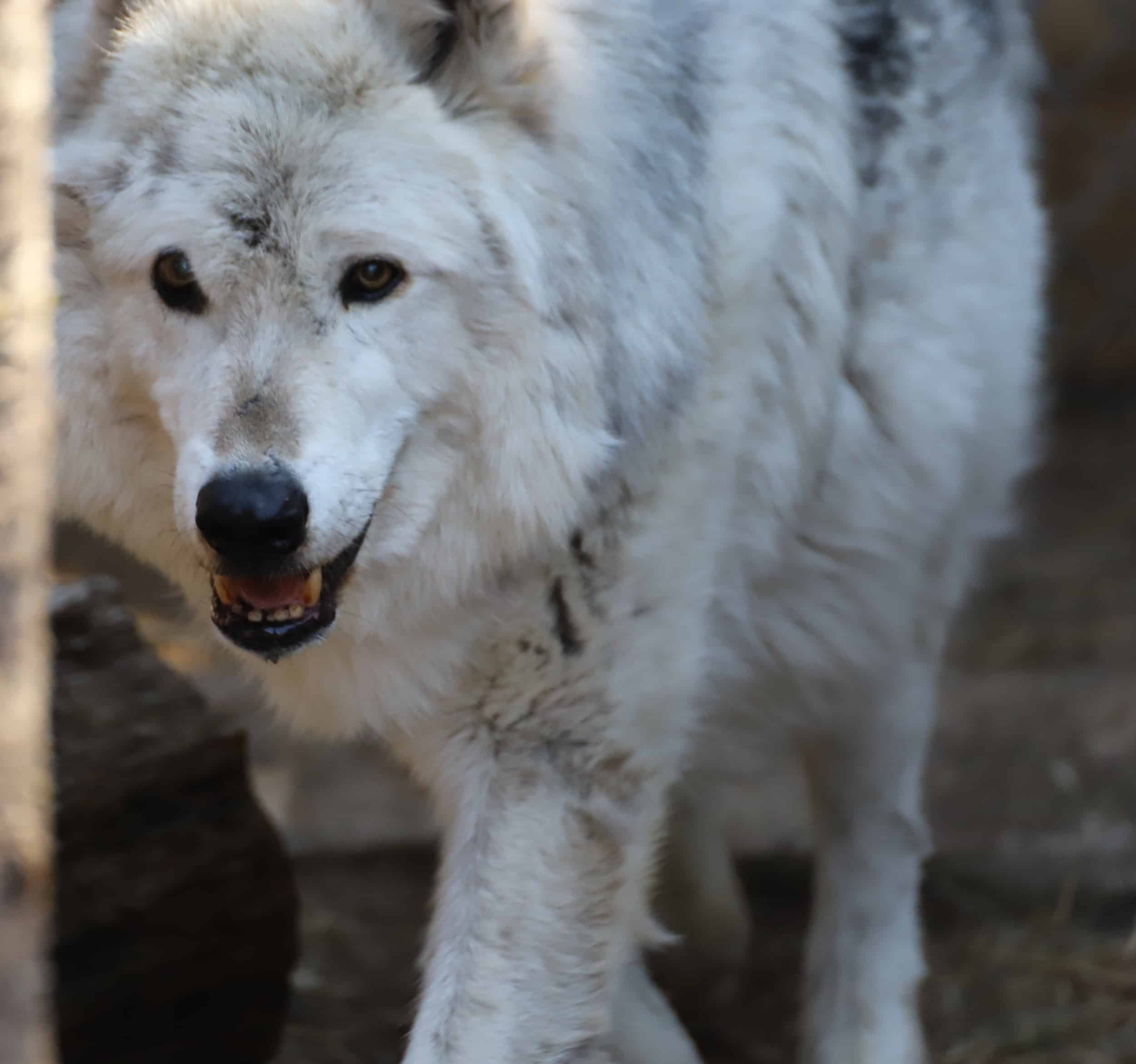 Grizzer is doing great.  We celebrated his 14th birthday with a webinar and a pork roast.  He enjoyed both, especially since Luna took a break on the East Side Retirement area so Grizzer could enjoy his pork roast in peace.  I don't want to give you the idea that Grizzer wants to be away from Luna.  After Luna's medical exam and subsequent recovery in the Wolf Care Center, Grizzer spent a lot of time whining at the gate until Luna returned.  The issue is that Luna gets quite food possessive, so to eat a pork roast, it takes some time and it requires no distractions. It was a nice birthday gift. 
This spring season has had some unusual changes in weather.  We had snow and ice late in the  year, but when things finally turned to spring, we seemed to miss a transition and went right into the high 70's and low 80's for daytime temperatures.   While humans might find this weather welcoming, wolves with full winter coats are a bit overheated.  We are always concerned with heat and older animals.  You may have witnessed (possibly on the webcams) wolf care staff brushing the wolves during the morning wolf checks.   Grizzer has an extremely thick undercoat and is not shedding other than on his legs.  He usually ends up with a shed from below pattern, where he loses his leg, tail and stomach undercoat and keeps a large ruff of hair around his neck.  His sister Maya had  similar shedding pattern only in addition to the neck ruff, she kept a ruff a long hair on her back legs that made her look like she was wearing a tutu.  
https://wolf.org/wp-content/uploads/2018/05/wcs_gz_5_9_18.jpg
2342
2500
Lori Schmidt
https://wolf.org/wp-content/uploads/2021/03/IWC_logo_white2a-300x127.png
Lori Schmidt
2018-05-17 16:43:38
2018-05-17 16:49:25
Grizzer – Shedding Pattern