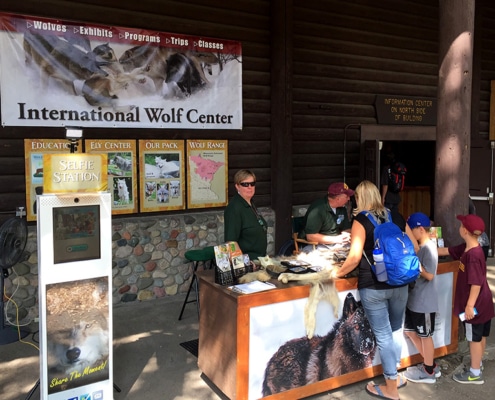 Get in on the action – volunteer!
Volunteers play a vital role at the International Wolf Center, contributing thousands of hours each year staffing booths, stuffing mailers, entering data, and performing essential maintenance. You could be part of this great tradition!
Not a wolf expert? Don't worry. If you believe in our mission and love wolves, we can find a way for you to make a difference. On the other hand, if you have an educational background and want to become more knowledgeable about wolves, we can help prepare you to confidently engage the public at one of our many events.
The next step is all up to you. Fill out the application below and we'll gladly contact you to discuss the many ways you can help the International Wolf Center teach the world about wolves.
To volunteer, download our volunteer application and mail or fax it to our administrative offices, attention Volunteer Coordinator.
Opportunities in Ely, Minnesota
Contact: Volunteer Coordinator
*Note: Because of the dynamics of a wolf pack, the International Wolf Center does not use volunteers for any wolf care activities.
• Help maintain exhibits
• Fulfill information requests
• Perform data entry
• Enter wolf behavioral logs in database
• Grounds maintenance – landscaping, garbage, etc.
• General office tasks: errands, copying, etc.
• Catalog library material
Opportunities in Minneapolis, Minnesota 
Contact: Volunteer Coordinator
Staffing Twin City area events (State Fair & other expos)
Speaking to civic and school groups
Assembling and stuffing mailings
Professional Services Opportunities 
Contact: Communications Department
We are looking for a PR firm to partner with us on some pro bono projects.
From time to time we need the talents of artists and illustrators to create artwork for our magazine and our website.
The International Wolf Center is a 501(c)(3) organization.
Save