Dr. L. David Mech Fellowship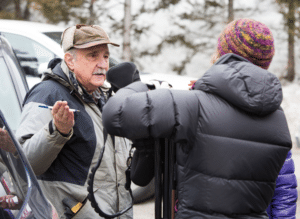 Summary
The International Wolf Center is seeking applicants for the 2023 Dr. L. David Mech fellowships. As an investment in the future of wolf research and science-based wolf education, each year the Center awards up to two fellowships for undergraduate students or recent graduates interested in pursuing careers in natural sciences with an interest in wildlife.  Fellowship recipients receive a $6,000 stipend and up to $4,000 in support for field research expenses.
Fellowship goals
Reduce barriers to allow undergraduate students and recent graduates to directly engage in research and field work.
Encourage students from diverse backgrounds to explore natural sciences/wildlife biology as a profession
Provide bridge support for early career researchers prior to graduate school.
Description
The mission of the International Wolf Center is to advance the survival of wolf populations by teaching about wolves, their relationship to wildlands and the human role in their future.  Since our founding in 1985 by Dr. L. David Mech and others, the Center has sought to provide the latest scientific information about wolves to our visitors and program participants.  We believe that continued investment in scientific discovery about wolves and other wildlife will lead to increased understanding of how to build a future where wolves and humans can coexist and thrive.  We also understand that many barriers exist for students and early career researchers and hope these fellowships can be useful tools for opening up access to people pursuing a wildlife biology career.
Fellowship Award Details 
Application opens: October 1, 2022
Application deadline:  February 1, 2023
Fellowships Awarded:March 31, 2023
Term: through April 1, 2024
Stipend: $6,000
Research Allowance: up to $4000 per year
Stipends are meant to support study and research during the tenure of the appointment.  They are not salaries and fellowship recipients are not employees or contracted workers of the International Wolf Center. All funds provided, including stipends and research allowances, are subject to tax. Fellows awarded stipends receive a financial summary at the end of each calendar year and are responsible for meeting their own state and federal tax obligations.
Research allowances are for equipment, supplies, research-related travel costs, and other support required to conduct the research itself.  A budget and general justification for these expenses must be included with your application. Funding for these costs does not need to be secured at this time.
Qualifications and Eligibility
Applicants must be either currently enrolled in an undergraduate institution (upper level student) or recently graduated with an undergraduate degree.  Current graduate students and those already with graduate level degrees in wildlife biology or a related field are not eligible.
Applicants must have either designed a research project or have been accepted to participate in a research project as demonstrated by the Research Project Check-off from the institution or researcher they plan to work with.  Expected participation in the institution's research can be contingent on receiving the fellowship award funds.
Applicants must provide a letter of recommendation from an academic or professional reference.  This letter should reference their project proposal and ability to complete it.
Research and fieldwork must be "wolf related" – either directly involving wolves, another wild canid species or a broader study looking at the interactions between several species including wolves.
Applicants must be available to conduct an online webinar with the International Wolf Center in 2023.
Criteria for Selection
Fellowship applications will be reviewed by the selection team using the following criteria: 
Special consideration will be given to candidates from communities of color and indigenous communities in the United States.
Demonstration of financial need
Applicant's ability to carry out the proposed research/field experience
Proposal merit
Candidate's demonstrated interest in pursuing natural sciences with an interest in wildlife as a career
Expectations for Fellows
Fellows will be expected to present an online webinar summarizing their field research experience and research findings in 2023.
Fellowship recipients will also be expected to submit a summary report to the International Wolf Center and be willing to be interviewed and photographed by Center staff. These materials may be used in issues of International Wolf magazine or in web/social media posts.
Fellowship winners will be expected to attend the International Wolf Center's Howl at the Moon Gala on Thursday, Oct. 12, in St Paul, MN to present a poster describing their project. Airfare and other travel costs (lodging, food) should be factored into fellowship expenses. If this is not possible for some reason, please explain in your application. A virtual presentation may be permitted as an option – though in person presentation is preferred
Application Materials
Apply for this fellowship. Along with providing contact information, please be prepared to upload the following with your application:
Cover letter: Should focus specifically on how your application will help accomplish the goals of the fellowship program, including our desire to support candidates who are members of a community of color or of an indigenous group.
Resume/CV
Project proposal: Up to 3 pages with one extra page for references or figures.
Budget Proposal: Including needs and dollar amounts to support the project. An example is provided below.
Academic or professional reference letter highlighting research aptitude to successfully complete the project.
Research Project Approval Form  (if working with an established research project)

---
Frequently Asked Questions
Who is Dr. L David Mech?
L. David Mech (pronounced "Meech") is a Senior Research Scientist with the Biological Resources Division, U.S. Geological Survey and an Adjunct Professor in the Department of Fisheries, Wildlife and Conservation Biology, and Department of Ecology, Evolution and Behavior at the University of Minnesota. He has studied wolves and their prey since 1958, as well as several other species of wildlife.
Although administration of his U.S. Geological Survey research is through Northern Prairie Wildlife Research Center, he is headquartered on the St. Paul Campus of the University of Minnesota in the Raptor Center, 1920 Fitch Ave., St. Paul, MN 55108.
Mech is also founder and vice chair of the International Wolf Center, and chaired  the IUCN Wolf Specialist Group from 1978 to 2013.  In 2013, the Wolf Specialist Group merged into the IUCN Canid Specialist Group, and Dave became  advisor for wolves in that Group since then.
Mech has used radio-tracking for most of his career on wolves, deer, leopards, caribou, elk, lions, elephants, raccoons, lynxes, elk, hares, etc. For basic info, see Handbook of Animal Radio-tracking, and for info about satellite and GPS collars, see "A critique of wildlife radio-tracking and its use in national parks: a report to the National Park Service". For wildlife research techniques before radio-tracking, see wildlife research in the old days.
Do I need to design my own project or can I get funded to participate as a volunteer on an established project?
Fellowship recipients may design their own project or work as a volunteer or intern on an established wolf project with other researchers.
Can my project take place at a zoo or animal sanctuary?
Yes, "ex situ" projects at a facility with captive animals are eligible but must contain a significant scientific research component.
I am not from the United States, can I apply?
At this point, fellowship recipients must be U.S. citizens to qualify but projects may take place internationally.
I'm interested in volunteering with an existing wolf project – where can I find one to connect with?
Almost every state and country that has an active wolf population has researchers and wildlife managers studying them. Often these projects are led by state wildlife or natural resource departments or local universities with wildlife biology programs. Some of the largest wolf research projects have an online presence including the Yellowstone Wolf Project, Voyageurs Wolf Project and the Scandinavian Wolf Research Project.  A great place to start looking for wolf and other canid projects is the Canid Specialist Group of the IUCN or on the Texas A&M Job Board.
Who should I contact for more information?
The International Wolf Center advances the survival of wolf populations by teaching about wolves, their relationship to wildlands and the human role in their future.