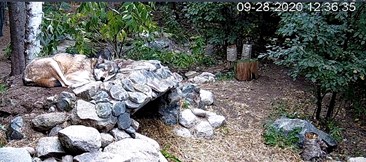 Boltz has gone through the weaning process from a higher dose of prednisone to a maintenance dose.  We have reviewed the hours of surveillance footage to make an assessment if the treatment has improved conditions and if there is an optimum dose that can be correlated with improvement. Unfortunately, if the condition is Degenerative Myelopathy, research shows that prednisone has a limited impact on the condition.  We had hoped to have enough stored blood to go forward with a DNA test to see if Boltz posses the mutated gene associated with DM in dogs, but it would require more bloodwork.  Since additional blood sampling would require immobilization and knowledge of that DNA would not yield any changes to our treatment, we have decided to not put Boltz through another chemical immobilization at this time, unless we need blood for an additional purpose, such as a white blood cell count or if he has a decline in his condition.
Our veterinarian is connecting with some universities that are currently doing research on DM in dogs and may be trying some alternative treatments.   He has been active over the weekend, frequently climbing on and off the pack holding area den.  This movement has helped his mobility, and he is responding to the pack activities on the other side of the fence.
We are most impressed with some video footage gathered by the surveillance cameras on Sunday evening, when he at the shared fenceline with Grizzer and did a full tail wag.  This is the first time we witnessed a strong social greeting to Grizzer.
https://wolf.org/wp-content/uploads/2020/09/BZ_9_28_20.jpg
162
366
Lori Schmidt
https://wolf.org/wp-content/uploads/2019/06/white-iwc-logo-1.png
Lori Schmidt
2020-09-28 15:14:50
2020-09-29 12:15:29
28 September 2020 – Boltz update