Boltz, ambassador wolf at the International Wolf Center, euthanized due to failing health
Boltz update – Nov. 12, 2020
Contact information:
Chad Richardson, Communications Director, International Wolf Center
Email: chad@wolf.org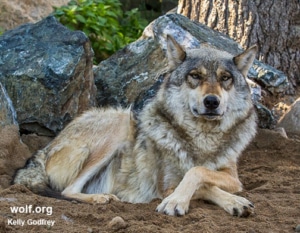 FOR IMMEDIATE RELEASE – Boltz, a popular ambassador wolf at the International Wolf Center in Ely, Minnesota, was euthanized on Thursday, Nov. 12. In recent months, a neurological issue with his hind legs was discovered by wolf care staff. Despite the best efforts of veterinarians, radiologists, wolf care staff and countless others, no progress could be made to treat the condition.
On Sept. 16, shortly after he began experiencing those issues with his hind legs, Boltz was given an MRI at Ely-Bloomenson Community Hospital in Ely. Radiologists at the University of Minnesota reviewed those files, as did Dr. Kristine Woerheide from the Ely Veterinary Clinic. Unfortunately, the MRI did not lead to a conclusive diagnosis of Boltz's condition.
"This was a challenging management decision because there was no clear indication that he was fully incapacitated," said Lori Schmidt, the Center's Wolf Curator. "Throughout this condition, he had been waxing and waning in mobility. While it doesn't appear that the condition had a significant pain correlation, his lack of strength in his back legs made him vulnerable to falling. As colder, icier conditions arrived, he was struggling to become mobile. We are ethically obligated to manage an animal's behavioral health and the anxiety of his vulnerability was increasing. Dr. Kristine Woerheide's dedication to this case was phenomenal.  Unfortunately, Boltz didn't respond to any treatment options."
On Oct. 15, Dr. Woerheide conducted a spinal tap for additional testing for several potential diagnoses, but test results showed no definitive answers and treatment efforts yielded no results.
After he was euthanized, his body was transported to the University of Minnesota Veterinary Diagnostics Lab for a necropsy. Those results will further educate staff as the Center continues to manage its four remaining wolves in Ely.
Boltz had been on exhibit at the Center since 2012. He is representative of the Great Plains subspecies of wolves. That subspecies is typically found in Minnesota, Michigan and Wisconsin. He was born in 2012 and joined the Exhibit Pack in July of that year.
He and his packmates at the Center have educated tens of thousands of visitors at the Center's exhibit in Ely, as well as thousands of people throughout the world through regular YouTube videos, wolf logs and webcams.
"We are heartbroken to announce this loss to our Ambassador pack," said Grant Spickelmier, the Center's Executive Director. " but we are consoled by the fact that during his eight years with us, Boltz educated and inspired tens of thousands of people at our interpretive center and online. His educational legacy will go on."
Boltz was always a low ranking wolf. Early on, he developed a phobia about summertime insects, particularly wasps, hornets and bees. When he heard something buzzing overhead, he dropped his head and retreated to the wooded portion of the enclosure. This more elusive behavior added to the visitor experience when they were able to get a glimpse of him watching through the trees. Whether at the visitor Center in Ely or via the many webcams, Boltz had many supporters.
"As most dog owners recognize, canids have unique personality traits," Schmidt said. "One benefit of socialized wolves is the opportunity for staff to reveal those traits as we teach about wolf behavior.  Boltz was a calm, social pack member that would wait and watch, before trusting a situation. His facial expressions of that mistrust were cherished by staff and visitors."
The International Wolf Center advances the survival of wolf populations by teaching about wolves, their relationship to wildlands and the human role in their future. For more information about the International Wolf Center, visit wolf.org.