For Immediate Release
Wolves in Winter
Why the season is a boon for this apex predator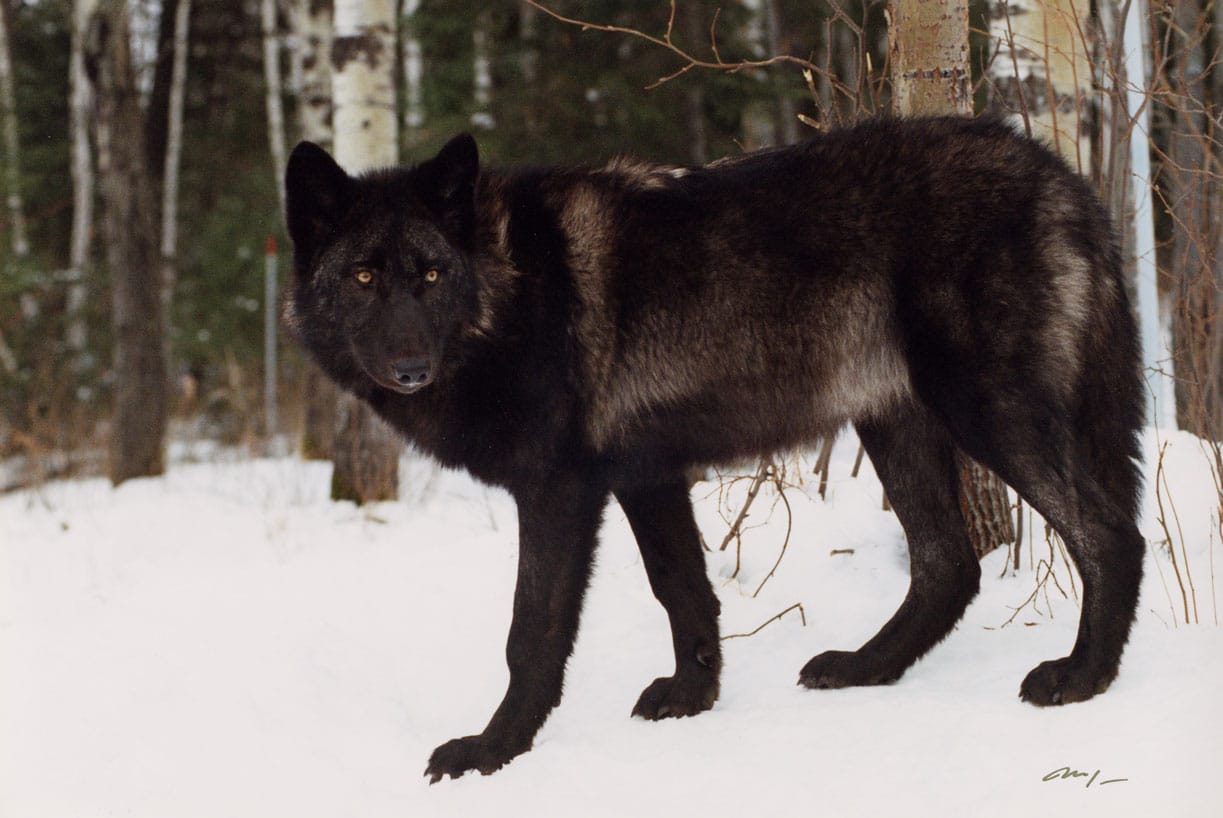 Minneapolis – With the Winter Solstice upon us in the Northern Hemisphere, the nonprofit International Wolf Center answers questions from visitors and its members about how wild wolves adapt to the cold and snow.
"Wolves approach winter with thick coats, full-sized packs, and hungry bellies. Pups are ready to travel with the adults throughout the pack's territory to search for vulnerable prey they can capture with minimal danger," said Dr. L. David Mech, founder and vice chair of the International Wolf Center.
Physical changes, environmental variables and interactions with other animals help wolves during winter months because:
Wolves gain hunting advantages over ungulates (hoofed animals such as elk, deer and moose) because their wide feet act as snowshoes over crusty snow, thus aiding packs that travel some 15-25 miles a day within its territory (varies from 25-150 square miles in the northern U.S. and 1,000 square miles or farther north).
Prey are often at their weakest and most vulnerable during winter.
With sufficient food, adult wolves gain weight and stamina, which prepares them to produce and care for spring-time pup litters.
Pups have grown to about adult size and begin honing their hunting skills by imitating the adults.
Thick fur coats provide added warmth for wolves from the latitude of the Upper Midwest and Yellowstone National Park to more northern parts of the world like Ellsemere Island in Canada.
Wolves sleep near each other for added warmth or curl into a tight ball, protecting exposed limbs.
Scientists and wolf watchers like the winter months because aerial spotting is greatly improved by the contrast of gray- and black-coated wolves against a backdrop of leafless trees and snowy terrain. For state wildlife managers, this aids their winter wolf count efforts by the more visible animals and tracks.  
"We are most likely to view a wild wolf in forested areas like the Western Great Lakes in winter when foliage is thinner," said Center Curator Lori Schmidt. "We can best locate wolf tracks or sites where wolves have taken down prey on snow-covered lakes."
ABOUT THE INTERNATIONAL WOLF CENTER – Learn about the International Wolf Center at wolf.org. The Center, founded in 1985, is known worldwide as the nation's premier source for wolf education. The mission of the Center is to advance the survival of wolf populations by teaching about wolves, their relationship to wildlands and the human role in their future. The Center educates through its Web site, wolf.org, its ambassador wolves, museum exhibits, on-site adventure and outreach programs and International Wolf magazine. The educational facility is located at 1396 Highway 169, Ely, Minnesota, 55731. (Phone: 218-365-4695), and the Center's Administrative and Outreach offices are at 3410 Winnetka Ave North, Minneapolis, MN 55427.
##