FOR IMMEDIATE RELEASE:
500 Wolves at Our Door
Minneapolis, Minn.
April 11, 2016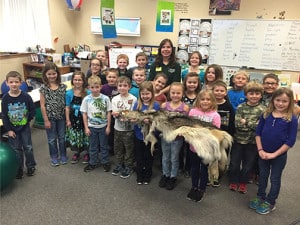 The International Wolf Center celebrated its 500th Wolves at Our Door program last week with a classroom of 2nd graders at Zimmerman Elementary in Zimmerman, Minnesota. Funded by the Minnesota Environment and Natural Resources Trust Fund, the program is free to K-12 public schools and nature centers in nine counties in the metro area and is aimed at helping young people understand wolf management issues.
"Many of our students come from low-income families and the only thing they know about wolves are the myths they've heard in fairy tales and movies," said Outreach Director Tara Morrison, who presents the programs in Twin Cities schools. "They are the students who are really eager to learn about wolves, and their role in the environment."
The Wolves At Our Door program provides science-based information about wolf biology, behavior, pack dynamics, predator/prey relationships, the loss of Minnesota habitat, and the complex issues surrounding wolf management and changes in legal status as they return to more areas of the state. Students are able to examine and study wolf and prey animal artifacts.
ABOUT THE INTERNATIONAL WOLF CENTER – Founded in 1985, the International Wolf Center is one of the leading authorities for wolf education in the world. The mission of the Center is to advance the survival of wolf populations by teaching about wolves, their relationship to wildlands and the human role in their future. 
###