Features
---
Lethal Wolf Control: Is It Effective at Reducing Future Livestock Depredations?
By Liz Harper

Killing wolves to prevent livestock depredation is a controversial subject. Over ten years, studies in the U.S. have assessed the issue with varied and sometimes contradictory results. The author explores a thorny issue in detail, bringing to light the good reasons for ongoing research and a thoughtful approach to livestock depredation prevention.
How Do States Estimate Their Wolf Populations?
By Richard P. Thiel and Diane Boyd
Accurate population numbers are essential to effective wildlife management—but when the animals in question are freeroaming, low-density inhabitants of wild spaces, getting those numbers is not easy. In part one of a two-part series, Thiel and Boyd explain the methods used to collect population data on wolves, and how they vary with location, terrain and available technology.
Download article.
Wildlands and the Wolf
By Fitz Fitzgerald

Wildlands and preservation are important not only to the wolf, but to humans and other species, as well. The author explores the meanings of wildland, wilderness, and the places where humans and wild things intersect—those private lands that must be part of the habitat equation because they form the links between wild, protected areas.
Departments
---
From the Executive Director
Let's Go Green and Wild for the Holidays
by Rob Schultz

A few years ago, my parents gave me a pair of wildlife cameras for Christmas—the type often used by hunters to scout deer and other prey during hunting season. I'm not a hunter, so out of curiosity I hung them beside the creek in our urban backyard. To my surprise, they introduced me to an untamed group of neighbors I'd never met.
Tracking the Pack
For New Pups, Adjustment Takes Time
by Lori Schmidt, wolf curator, International Wolf Center
The summer of 2016 brought a flurry of activity to the new Wolf Care Center. Pup-care team members worked around the clock to establish bonds with Axel and Grayson that would last a lifetime, successfully socializing the pups to accept the human wolf-care team as safe members of their world. But the pups also needed to meet the Exhibit Pack during their socialization window—a period in their maturation process estimated to extend from 3 to 12 weeks of age. On August 7, Axel and Grayson were introduced to their pack mates.
Member Profile
Honk if You Like Wolves!
by David Kline, development director, International Wolf Center
And boy, does Gary Deutsch give a "big-rig hello" every time he rumbles by the International Wolf Center's administrative and outreach office in Minneapolis. It happens at least once a month; the office staff hears that honk and always knows it's Gary!
Wolves of the World
NEPAL
A call to protect the unique Himalayan wolf
by Tracy O'connell
Ancient and rare, the Himalayan wolf (Canis lupus chanco) subspecies has been a topic of study lately as scientists seek to determine more about its genotype and the cause of decline in its numbers. Scientists have long believed the animal to be related to the Tibetan wolf—another gray wolf subspecies—but new findings may tell a different story.
CANADA
Warnings in British Columbia follow spate of habituated-wolf issues
Two wolves were euthanized last summer after their behavior posed threats to campers in Banff National Park in Alberta. One was a breeding female and the other a collared female yearling. Each had made numerous visits to the park's Bow Valley campground, stealing food and refusing to be driven away. Declaring the wolves food-habituated, Parks Canada personnel chose lethal means of control after consulting with wildlife management experts, reviewing scientific literature and considering
other options, Parks staff said.
SPAIN
Higher-pitched pack chorus indicates presence of pups
The Fall 2016 issue of International Wolf carried a story about research on howling, and how studying canid howls can lead to knowledge of their subspecies and geographic range, and may potentially be used to help reduce depredation and interbreeding. Other research published this year in the online journal PLOS ONE is showing ways to enhance the reliability of using chorus howls—sounds made when a pack howls together —to determine the presence of pups.
Book Review
Wolf Land: A Trapper's Tale
by Nancy jo Tubbs
He graduated from Iowa State University in 1973 and took a job trapping rabid skunks "because it sounded exotic." Later,  because he loved trapping, his passion carried Carter Niemeyer from work "bad for the soul" as a federal trapper hired to kill wolves that bedeviled ranchers, to work as a wildlife manager trapping wolves in order to save them.
Personal Encounter
Best Job Ever! Notes from the Pup Care Staff
As pups are raised to join the Center's Exhibit Pack, a crucial socialization process helps them adjust to the human presence in a captive environment. The International Wolf Center Pup Care Program began in 2000 when Shadow and Malik arrived; the Center selected 20 individuals to train and volunteer over a six-week period that year. This year, 85 pup care participants from 15 states and Canada volunteered over 10 weeks. Increasing numbers of volunteers have allowed the Center to expand programming, and pups now participate in 280 indoor, public programs before they join the adults in the main enclosure. Those educational efforts, along with round-the-clock pup care, add up to 1,176 hours of care and attention. Here, three of the 2016 volunteers reveal some of the challenges and rewards of helping Grayson and Axel make a successful transition to life in the Exhibit Pack.
WildKids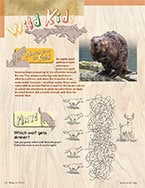 Notes from the Field
As nights start getting crisper and aspen trees turn gold, beavers begin preparing to live all winter beneath the ice. This means venturing onto land more often to cut trees and store the branches in an underwater food pile—and that makes them more vulnerable to wolves that lie in wait for the large rodents or patrol the shorelines in order to catch them on land. An adult beaver will provide enough wolf food for several days.
A Look Beyond

Nowhere to Run
by Cornelia Hutt and Kim Wheeler
On September 12, 2016, just two days before the anniversary of the red wolf's historic return to the wild in 1987, the U. S. Fish and Wildlife Service (USFWS) announced a long-awaited proposal regarding the future of one of the world's rarest mammals.
Save
Save
Save
Save
Save
Save
Save
Save
Save
Save