Spring 2018
Features
---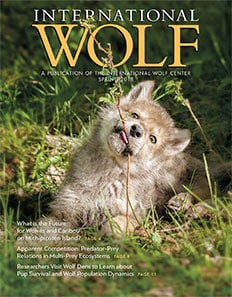 What Is The Future for Wolves and Caribou on Michipicoten Island?
By Tracy O'Connell

Wolves on Isle Royale have been studied for years. Now, a new drama plays out on Michipicoten Island, on the east side of Lake Superior, where the interactions of relatively new populations of wolves and caribou gain attention from researchers and conservationists. The author explains some of their findings. Download full article.
Apparent Competition: Predator-Prey Relations in Multi-Prey Ecosystems
By Debra Mitts-Smith

Not surprisingly, wolves have been implicated in those habitats where numbers of prey animals are declining. Yet studies where only one predator—the wolf—and a single prey species live show that predator and prey populations tend to track each other, and there are multiple reasons for that.
Researchers Visit Wolf Dens to Learn about Pup Survival and Wolf Population Dynamics
By Sam Cook for the Duluth News Tribune

As part of a state and tribal project to understand how wolf populations grow, DNR researchers have for several years visited wolf dens in Minnesota to learn about the condition and survival rates of wolf pups. Sam Cook wrote this piece for the Duluth News Tribune. Statistics have been updated.
Departments
---
From the Executive Director
Do We Use Technology? Lend Me Your Ear, My Friend
by Rob Schultz
At a dinner party over the holidays, friends and I got to talking about my job at the International Wolf Center. I fielded the normal questions about wolves and our Center's work regarding education. But then came an unexpected question. "How much do you use technology at your non-profit?" a friend asked.
The question felt as if it carried an implication—as though surely a non-profit couldn't be on pace with the rest of the world when it comes to technology. After the bruise to my non-profit ego healed, I went on an extended technology-related rant.
Tracking the Pack
Seasonal Tests, Magnified by Medical Concerns
by Lori Schmidt, wolf curator, International Wolf Center
Since the International Wolf Center's wolf management program began in 1989, wolf care staff members have had many years to study the intricate details and dynamics within a wolf pack. From the development of the neonate wolf pup to the aging of a retired pack member, understanding individual wolf behavior and interpreting the influence on the pack is critical. Wolf care team  members are on site 365 days a year, charged with the task of employing the best management practices to ensure the physical and social needs of the ambassador wolves are met.
Member Profile
"Mind-full" of Wolves
by Maddison McHugh
Sonic screwdrivers, light sabers and a life-size replica of R2D2 are enough to pique any self-proclaimed nerd's interests, but Ted Meissner isn't your average "fanboy." Internet technology seemed like a natural professional pursuit for Ted after he realized that he didn't want to continue his education in biology. But after working in the IT world for many years, Ted decided it was time to make another change and start living a life that reflects his values.
Wolves of the World
Habituation, Recolonization, Hybridization and Inbreeding: Topics of Study
by Tracy O'connell
ISRAEL
A spate of wolf attacks on humans in 2017 has drawn considerable media attention. Ten attacks last summer, in a narrow stretch of the Judean Desert between popular tourist locales along the shore of the Dead Sea, have resulted in warnings to campers, especially those with young children. Children who were attacked were rescued by adults with only minor wounds but underwent precautionary treatments such as injections against possible rabies. Rangers destroyed one offending wolf and translocated another. Wolves number between 100 and 150 in Israel; about 20 are believed to be living in the area where attacks occurred.
ITALY
For the first time in more than a century, wolves are living near Rome, where legend says the founders of that historic city, twin brothers Romulus and Remus, were foundlings suckled by a wolf. The modern-day pack of two adults and at least two grown pups has been photographed by trap cameras in a nature reserve.
RUSSIA
An archaeology website, www.ancient-origins.net, reports that remains of dogs and wolves found at the Srubnaya-culture settlement of Krasnosamarskoe in the Russian steppes, dating back 4,000 years, indicate that participants in a ritual ate the sacrificed canids.
SCANDINAVIA
Inbred wolves is a topic of concern in Norway and Sweden, which share a wolf population along a long border. It has long been known that Scandinavian wolves are descended from just a few animals that first populated the region more than 30 years ago. Researchers have now studied the genome of 100 wolves from this region and determined the genetic consequences of intense inbreeding in a threatened species. Their work was reported last fall in the journal Nature Ecology & Evolution.
SAUDI ARABIA
Hybridization with feral or domestic dogs may be threatening the genetic distinction of Arabian wolves (Canis lupus arabs), the largest carnivore on the Arabian Peninsula, a subspecies of the gray wolf (C. lupus), distinct from both the Indian (C. l. pallipes) and European (C. l. lupus) subspecies. That's the finding in a report issued by the Canid Specialist Group, part of the International Union for the Conservation of Nature (IUCN). Arabian wolves are considered endangered, and their numbers are declining despite legal protection.
NEPAL
The return of wolves to the Nyesyag Valley in the Manang District of Nepal was verified by trap camera sightings for the first time since anecdotal reports indicated wolves had returned to the region after an absence of as much as 50 years. The finding, by researchers led by Rinzin Phunjok Lama, was published by the Canid Specialist Group of the International Union for the Conservation of Nature (IUCN).
Personal Encounter
An Elusive Wolf—and the Months Spent Tracking Him
by Tom Gable
Over the past four summers, I have studied wolves in Voyageurs National Park (VNP) in northern Minnesota. I rarely see them, and when I do it is usually for a fleeting moment. Dense summer vegetation makes the forest appear impenetrable, and observing wolves often enough to study them is practically impossible. Instead, I must often resort to tracking wolves around the woods, trying to understand what the animals have been doing or thinking based on places they have been and the signs they have left.
WildKids
How Do Wolves Keep Warm?
During winter, humans put on coats, hats, mittens and boots to go outdoors.
Do wolves wear hats? No! But they have adaptations that help them stay warm outside in the snow. Adaptations are physical traits that have evolved to keep an animal alive. Wolves have very thick fur that keeps them warm all winter.
Book Review
Wolves and Free-ranging Dogs Observed and Analyzed
Book review by Nancy jo Tubbs
A few years ago, while walking a rural road on the Big Island of Hawaii, a friend and I saw three big dogs crest a hill nearby and stand focused on us. When my friend quietly reached down and picked up a chunk of lava from the roadside, the dogs turned and trotted away.
It's not uncommon to encounter an unleashed dog or three in a rural area or even in a town, and if the dogs are unfamiliar, the question arises about just how differently the group might behave from their ancestors—a pack of wolves.
Stephen Spotte, in Societies of Wolves and Free-ranging Dogs, draws on close observations of the behavioral biology of both, and on heavily-footnoted research from around the world. From dingoes in Southeast Asia to free-ranging dogs in Israel, Brazil and Baltimore's alleys, he details the similarities and differences of the two species.
A Look Beyond
Wolves, Polar Bears and Two Conferences
by Debra Mitts-Smith
Thompson, Manitoba, is a mining town in the boreal forest of Canada, an area rich with wildlife. This town of about 13,000 people is seeking to become a "Wolf Center of Excellence" in order to supplement its mining economy with eco-tourism. Wolf statues dot the town, and a wolf mural covers the side of a prominent building, visible a mile away. The creation of a wolf observation and education center similar to the International Wolf Center is a civic goal for coming years.