Features
---
Yellowstone Wolf 755M: A Breeding Male Without A Pack
By Betsy Downey

In Yellowstone National Park, a male wolf wanders alone, his graying coat the result of advancing age and a rugged life. Tutored in his youth by a strong, dominant female until he proved himself as a hunter and defender, 755M survived pack rivalries and avoided hunters only to become, eventually, a wolf without a pack—and a legend in Yellowstone's history.
How Do States Estimate Their Wolf Populations?
By Diane Boyd and Richard P. Thiel 
PART 2 The Rocky Mountains and the Southwest
Effective wildlife management requires accurate estimates of animal populations. Wolves, however, are free-roaming and low-density, and they inhabit enormous,
wild spaces—all circumstances that make them hard to count. This is the second
in a two-part series in which Boyd and Thiel explain the methods used to collect
population data on wolves.
Wolf Reintroduction to Isle Royale? An interview with Dr. Rolf Peterson

The National Park Service has released a proposal to reintroduce 20 to 30 wolves into Isle Royale National Park in Lake Superior over the next three to five years. Here Dr. Rolf Peterson, who has studied the Isle Royale wolf population since 1970, discusses that proposal with International Wolf, describing possible long- and short-term effects of a reintroduction. Download article.
Departments
---
From the Executive Director
Would Privatizing Livestock Reimbursements Better Serve Wolves and Humans?
by Rob Schultz

I've often wondered what it would be like if commercial insurance carriers handled depredation claims for livestock lost to wolves. Would issues surrounding wolf management be less political? Could farmers and ranchers be better served, more quickly? Would private insurers be more effective in working with livestock producers to put preventative measures in place to reduce the number of livestock lost to wolves?
Tracking the Pack
It Takes A Pack To Raise A Pair Of Pups
by Lori Schmidt, wolf curator, International Wolf Center
When the wolf care staff decided to proceed with our 2016 ambassador pups' introduction to our adult wolves without the presence of Luna, the lone dominant female of the pack, we fielded many questions about the decision. Would a pack of males bond well without a dominant female? Would the behaviors displayed by pack members be different in the absence of a female? Would the pups be socially integrated into the pack without Luna?
Member Profile
Helping People (and Wolves) Recover
by David Kline, development director, International Wolf Center
Anesthesiologist and International Wolf Center member Dr. Mark Gittler reports that the operating room at his Torrance, California hospital is kept at a fairly low temperature. To stay warm, he sports a comfortable, long-sleeved International Wolf Center T-shirt under his hospital scrubs. He has 12 of them in his collection, in many colors!
Wolves of the World
Wolves Encounter Fear And Loathing Near And Far
by Tracy O'connell
Wolves continue to draw fire from some for fearsome behavior, from Finland, where they are killed to save them; to Norway, where more than half are slated for death; to India, where they are seen as a threat to aviation; to Canada, where they are viewed as super-sized and unnaturally vicious. This is an example of some:
FINLAND
Killing wolves to save them:
Wolf culls continue in Finland in an effort to increase the animal's acceptance among those living in wolf territory and to diminish illegal poaching, according to a statement from the country's agriculture and forestry ministry.
NORWAY
47 of 68 wolves slated for eradication:
Two countries east, meanwhile (with Sweden in between), Norway has a similarly strong hunting ethos. With more than 200,000 registered hunters, it has one of Europe's smallest wolf populations, estimated to be 68 animals before the birth of pups in spring of 2016. The news of an intent to cull nearly 70 percent of those adult animals this year—47, to be exact, representing four of the country's seven wolf packs—has received the typical mixed reviews such plans evoke locally, along with international objections.
INDIA
Wolf preservation meets airport siting: 
Construction of a second airport near the city of Pune, near India's southwestern coast, may pit developers against environmentalists over the survival of wolves and other endangered species. Pune is in the western state of Maharashtra, India's third-largest state by area and the world's second-most populated sub-national entity, with 112 million residents. (India's capital, Mumbai, called "Bombay" until 20 years ago, has 18 million inhabitants.)
CANADA
Canada sees continued human-wolf interactions:
As reported in the International Wolf winter issue, visitors to Canadian national parks have encountered bold wolves in campgrounds and on roads. One man from Ucluelet met with a pack of wolves while walking his two dogs on Wickaninnish Beach in Pacific Rim National Park. He was praised by Parks Canada staff for his response, which was to keep his dogs leashed and throw rocks to scare off the wolves.
Personal Encounter
A Canine Cosmos: My Encounter on Ellesmere Island
by Kira A. Cassidy
On the third day of June 2016 I woke up on a different planet. Okay, okay—I was still on planet Earth, with its pyramids and skyscrapers, baseball games and cornfields. But I was several thousand miles from all that, living next to an arctic wolf pack's den on Ellesmere Island, high above the Arctic Circle, northwest of Greenland. The wolf family of six adults and three pups went on with their daily lives, completely ignoring the human film crew camping nearby, and their brightly colored tents,
smells of coffee and pancakes, sounds of zippers and metal cases, and pounding of tent stakes. It was certainly the wolves' world—one they have evolved with for at least tens of thousands of years. I was the alien in this scenario, landing out of nowhere in a helicopter and then clumsily following the wolves for the next four weeks, trying to record everything I saw.
WildKids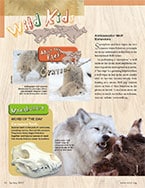 Notes from the Field
"Dispersal" is a word often used when discussing wild wolves. It comes from the word "disperse," which means to scatter, distribute or spread over a wide area. Dispersal happens when a young wolf leaves its pack and sets out alone to start its own pack. Wolves can disperse hundreds or even thousands of miles from where they were born, each one looking for a new area to make its own territory.
A Look Beyond
Another Turn Of The Crank: The Case for Wolf Restoration in Western Colorado
by Mike Phillips, Turner Endangered Species Fund
After completing decades of wolf recovery work elsewhere in the United States, conservationists can begin to turn the crank of progress by focusing on the last great, remaining expanse of wolfless wildlands in  the lower 48 states—the public lands of western Colorado.
Wolves were rendered all but ecologically extinct there by the 1930s, and the last wolf was killed near the Colorado-New Mexico border in 1945.
Book Review
Yellowstone Science: Celebrating 20 Years of Wolves
Book Review by Nancy jo Tubbs
It has Old Faithful, grizzly bears, hot springs, waterfalls, petrified trees and reintroduced wild wolves—so it's no wonder Yellowstone National Park is called one of the Seven Natural Wonders of North America.
A unique guide to those wonders is Yellowstone Science magazine, which twice a year "shares information from scientists
and researchers with the public to highlight in-depth, science-based knowledge about the Greater Yellowstone Ecosystem."
Save
Save
Save
Save
Save
Save
Save
Save
Save
Save
Save
Save
Save
Save
Save
Save