Fall 2020
Features
---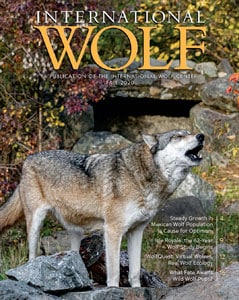 Steady Growth in Mexican Wolf Population is Cause for Optimism
By Aislinn Maestas

How do you know whether a wolf species is thriving? Simple—you count them. But it's not all that simple, as the author reveals in this story of the rebounding Mexican wolf population and the biologists who track their recovery. So get ready. It's time to go count wolves! Download full article.
Isle Royale: the 62-Year Wolf Study Begins
By Nancy jo Tubbs

Dr. L. David Mech was there when wolf research began on Isle Royale in 1958. In his new book, Wolf Island, he takes us there, too—for those first aerial hunts, and his explorations of all the wolf-and-moose interactions that have kept biologists fascinated with this unique island habitat for 62 years.
WolfQuest: Virtual Wolves, Real Wolf Ecology
By Chad Richardson

In the video game WolfQuest, wolves are not cartoonish. They behave just the way International Wolf Center experts described to the developers who brought such realism to the game. Fifteen years after its debut, this vivid, engaging game is still impacting players' knowledge and attitudes about wolves.
What Fate Awaits Wild Wolf Pups?
by Dick Thiel and Ellen Heilhecker

In this 2002-2003 research project, just 63 percent of wild wolf pups studied survived to adulthood, while average mortality age for wild wolves was 4.5 years. Grad student Ellen Heilhecker faced several challenges to find out why, but creativity and determination netted her team some interesting answers.
Departments
---
From the Executive Director
Reflections on an Anniversary
Back in May, an obituary created a stir in our offices here at the International Wolf Center. One of our original board members, Brian O'Neill, had passed away, and our staff discussed how we could best honor his contributions to the Center, which include handling the legal aspects of our not-for-profit status. (See our memorial to Brian later in this issue.)
During that discussion, we realized that the founding papers for the International Wolf Center were signed in 1985, making 2020 our official 35th anniversary.
The recognition that we had reached such an important milestone (35 is the "Jade" anniversary for those who are interested), got me thinking about our legacy. For me, as a new executive director, this 35-year legacy is both a blessing and a great responsibility.
Tracking the Pack
Celebrating Milestones
by Lori Schmidt, wolf curator, International Wolf CenterOn May 5, 2020, Grizzer, the Center's lone retired pack mem-ber turned 16 years of age. This was a milestone for the International Wolf Center; he is the oldest wolf we've managed in our 31-year history. It inspired us to inquire of our fellow captive-wolf facilities and four long-term wild wolf studies to see how Grizzer's age com-pares with others of his species.
Member Profile
Spinning—A Tale of Support for The International Wolf Center
by Chad Richardson

There are many reasons why people across the United States and around the world become members of the International Wolf Center, but one of Chillon Leach's rea-sons is likely unique: fiber spinning.
As a member of the Weavers Guild of Minnesota, Leach found herself reading through a stack of fiber maga-zines. That's where she came across a story by a well-known fiber artist who wrote about how it was possible to spin the shed undercoat from wolves into yarn, and how the end products could be popular items at unique fundraisers.
Wolves of the World
Fossils Speak from the Past while Today's Animals Gain Numbers, Territory, Friends and Foes
by Tracy O'connell
CZECH REPUBLIC
A set of 28,500-year-old fossils here is providing insight into the dietary difference between dogs and wolves in Paleolithic times. The study, the results of which were published in the Journal of Archaeological Science, examined dental microwear texture (the manner in which tooth surfaces are worn based on the type of food consumed) on fossils, some of which were dog-like, and others wolf-like, based on the length of their snouts and skulls, and the width of their palates and braincases. The fossils came from the 37-acre Predmostí archaeological site near Prerov. 

CHINA
A pack of six wolves has been observed on an infrared camera in northern China, an unusually large-sized grouping for that nation, according to a forestry official, reported by the China Global Television Network. The sighting was in the million-hectare (2.5 million-acre) forest region in the north of Great Xing'an Range in Inner Mongolia, home to 50 species of pro-tected animals.
FRANCE
A motorist shot a video showing a wolf in a portion of France in which the canid has not been seen in nearly 100 years. As reported in The Telegraph, the wolf was sighted near the border between Charente and Dordogne in southwestern France. France is a nation where more than 500 wolves exist from the eastern plains to near Paris, and attacks on livestock result in protests by farmers and shepherds. In response to farmer concerns, a cull level of up to 19 percent has been set for 2020 to keep wolf numbers in check.
BELGIUM
The disappearance of a mother wolf dubbed Naya and her cubs in May 2019 has prompted the minister for nature in this country's northern, or Flemish, region to amend the government's nature decree to give wolves the highest degree of protection, the Brussels Times reports. The wolf family was based in Limburg, the easternmost of five provinces in the Dutch-speaking Flemish region. Some assumed they had been killed by farmers afraid for their livestock. Others, The Guardian reports, believe hunters were the cause, saying shepherds lack the time to track down wolves over a wide territory, and the pups may not have been killed—they may have starved after the mother died. No sign of Naya's family has ever surfaced.
INDIA
This country hosts nearly a quarter of the world's terrestrial carnivore species, according to Down To Earth, an environmental organization, in an online posting, noting it is remarkable that they, "in fairly high numbers, share space with a population of 1.3 billion people." This is an unusual phenomenon, seldom seen elsewhere in the world.
CANADA
An aerial cull of wolves in the North Slave Region of the Northwest Territories was conducted this spring to protect caribou herds. The goal was to remove up to 80 percent of the wolves in each of two caribou wintering areas—a total of up to 127 animals. The effort included a second prong called the Enhanced North Slave Wolf Harvest pilot project, in which the territorial Department of Environment and Natural Resources offered local hunters $1,600 or more per wolf pelt. Both are part of a five-year wolf management plan under-taken as the population of Bathurst and Bluenose-East caribou, combined, have declined by more than 32,000 animals over the past three years.
PORTUGAL
To encourage the return of Iberian wolves to the moun-tains here, an ancient breed of sheepdog is being recruited for livestock protection, The Telegraph reports. As a population of about 300 Iberian wolves is believed to be expanding, up to 100 Serra de Estrela mountain dog puppies are being trained and given to farmers by the conservation organization Rewilding Europe to pro-tect against wolves and ease shepherds' acceptance of the predators.
RUSSIA
Three persons were attacked by a wolf assumed to be rabid in Smolensk, a city of 330,000 that is the administrative center of a region of the same name. The ancient city, dat-ing to the ninth century, straddles the Denieper River 260 miles (418 km) west of Moscow. Persons there reportedly see wolves often and find them peaceful.
Personal Encounter
An Autumn Surprise in Lamar Valley
by Eric Bagelmann

In early October 2011, I went to Yellowstone to photograph the park's wildlife and landscapes. It was not my first trip there, but it was my first in autumn. Earlier trips had taught me about the magical moments and unforgettable memories Yellowstone provides; that's why I was driving the roads at 25-30 mph with frequent stops. (You never know what could be around the corner, or near a pull-out, that others might miss by driving at the 45-mph speed limit.)
One of those surprises occurred on my fall adventure. I was driving the park road between Tower Roosevelt and Silver Gate when I saw a number of cars pulled to the shoulders on the north and south sides, just east of Buffalo Ranch, which is now called the Yellowstone Forever Institute.
A Look Beyond
Brian O'Neill, Longtime Attorney for International Wolf Center, Passed Away in May
by Chad Richardson
For more than 40 years, the natu-ral world had a great ally in Brian O'Neill. The Minnesota-based attorney fought for the Boundary Waters Canoe Area Wilderness. He represented the victims of the Exxon Valdez oil spill in Alaska. And he fought to protect wild-life, including wolves.In his passion for the environment and the law, O'Neill often crossed paths with a relatively young wildlife biologist from northern Minnesota named Dr. L. David Mech. While the two weren't always on the same side in legal battles, they developed a significant mutual respect—so much that, as Mech was heading up the formative committee for an International Wolf Center, he reached out to O'Neill and asked him to become a board member. O'Neill became one of the first board members and served for several years. He had a lasting impact on the Center with important contributions during a key time in its history, Mech said. In fact, O'Neill was the attorney Mech turned to in order to incorporate the Center as a 501(c)(3).Sadly, O'Neill died in May from ALS. He was 72 years old.
WildKids
Feeding the Pack: Six Steps to Mealtime
by Kyle Mrak

Wolves in the wild are constantly searching for their next meal.
Wolves are carnivores, and they usually hunt animals called herbivores. Whether their goal is to get food for themselves or to share with the pack and pups, hunting is a difficult task. There are six stages in a hunt, and we're going to take a look at each of them.
Visit our Wildkids section.
Book Review
The Reign of Wolf 21:
The Saga of Yellowstone's Legendary Druid Pack
Book Review by Debra Mitts-Smith
The second installment of Rick McIntyre series on the wolves of Yellowstone features Wolf 21, one of the male pups raised by Wolf 8, the male wolf at the heart of the first book in McIntyre's Yellowstone wolf trilogy. Wolf 21's story is also the story of Yellowstone's famed Druid Pack—a tale filled with struggles within the pack (raising pups, hunting, dispersals, aggression, etc.), as well as challenges from without (encounters with lone wolves, disputes with rival wolf packs, and threats from other large Yellowstone carnivores—grizzly bears, black bears and mountain lions).