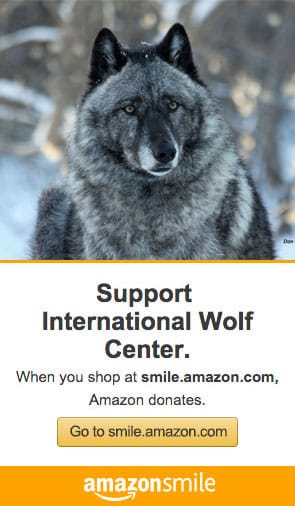 Can you donate any of the following goods to help us in our efforts to educate the world about wolves? To donate, call 1-218-365-4695. All donations are tax-deductible to the extent allowed by law.
In support of the ambassador wolves and the Wolf Care Program:
Email Lori Schmidt, International Wolf Center's Wolf Curator to verify current needs.
AA & AAA batteries
USDM Pro DVD+R White Inkjet Printable DVD's
Exam-grade, powder-free, thick nitrile gloves at least 5.9 ml thick

You can also view and purchase items from our

Amazon Wish List. 
In support of the education programs presented daily at our interpretive center:
Email Krista Harrington, interpretive center director to verify current needs.
ATS R410 Telemetry Receiver.  Frequency range 217-219
2 Wildlife Materials, Inc. HLPM-31100 transmitter collars (to use for teaching in lieu of more expensive wolf transmitter collars)
Tanned pelts from wolves, deer, beaver, moose, elk etc. for educational programs
Cartons of Plaster of Paris
Construction Paper (classic colors including black and white)
White Cardstock
#2 Yellow Pencils
In support of the administrative and development office:
Email communications manager to verify current needs.
Advertising
Grant Writing
Printing
Writers for International Wolf magazine
The International Wolf Center is a 501(c)(3) organization.
Save
Save
Save
Save
Save