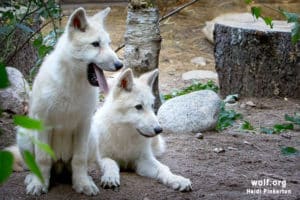 Date: June 24-25, 2017
Time: Saturday 8 a.m. – Sunday 12:00 p.m.
Registration Deadline: June 15, 2017
Program Rates: Non-member $150, Member $125
Deposit: $50
Relive the past year of our newest ambassador wolves—Axel and Grayson—and see the adult wolves they are becoming. This is a great way for 2016 Pup Care Participants to get together and reminisce about the many hours of pup care that contributed to the socialization of our 2016 pups. Even if you weren't a pup care participant in 2016, you are welcome to attend and see how the pups have matured.
Download important program details [PDF] (cancellation policy, details on lodging, meals and transport, packing list and sample itinerary and Required Health Form)
Minimum Age: 18
Location: International Wolf Center
Minimum # of participants: 4
Maximum # of participants: 16
Activity Level: Moderate exhibit work, Prolonged Sitting, Bending
Package Includes:
Interpretation of wolf interaction by wolf care staff
Wolf Enrichment stimuli presented during observation period
Saturday – BBQ
Sunday – Continental breakfast
Photographic opportunities during peak wolf activity
Behind the Scenes Access in Wolf Yard and Retirement Observation Area
---
Sample itinerary – Note that outdoors hikes and activities vary with weather conditions and temperature.
Saturday, June 25th
8 a.m. –  Meet at Front Doors to Center – Meet and Greet – Agenda
8:30 a.m. –  BTS – Wolf Check – Observe the staff conduct the daily wolf check and meds delivery
9 a.m. – Noon –   A year in review – video highlights of the past year, Share Pup Care Experiences – Prizes for most compelling pup stories
Noon  – Observe Wolf Enrichment Program – BBQ Wolf Yard
1 p.m. – 4 p.m.  –  Participate in a special project in the Retired Pack area
4 p.m. – 6 p.m.   – Dinner on your Own
7 p.m.  –  Back to the Center for "What's for Dinner? Program
Sunday, June 5th
7:30 a.m. – Coffee N' at the Auditorium Viewing Area
9:00 – 11 a.m. – Behind the Scenes – Photographic opportunities
11:00 a.m. – Swap digital images, video etc.
Noon – Program ends
Please note, you do not need to complete the attached Registration and Liability form if you have completed one for a Center program in the last calendar year, but please notify us of any changes to your health form.
Save
Save
Save
Save
Save
Save
Save
Save
Save
Save
Save
Save
Save
Save
Save
Save
Save
Save
Save
Save
Save
Save
Save
Save
Save