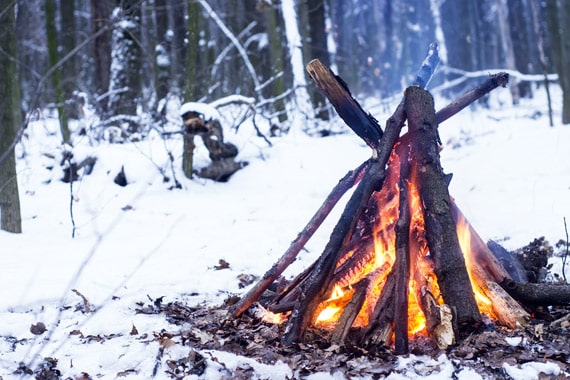 Date: February 8 – 10, 2019
Time:  Friday 5 p.m. – Sunday 10 a.m.
Registration Deadline: January 25, 2019
Program Rates:  Non-member $180, Member $160
Join our wildlands adventure in this winter expedition! You'll enjoy a once in a lifetime experience in the northwoods through building a winter shelter, learning winter clothing layering techniques, how to put together a winter sleep system, and much more. Howl at the night sky in wolf territory, and strap on your snowshoes for this extraordinary adventure!
Note: Be sure to read through the entire important program details and additional packing document for what to bring on your trip!
Download important program details [PDF] (cancellation policy, details on lodging, meals and transport, packing list and sample itinerary and Required Health Form).
Minimum Age:  18
Location: International Wolf Center
Minimum # of participants: 4
Maximum # of participants: 14
Activity Level:  HIGH: Extended periods outdoors in the colder months of winter. Several hours of traveling through snow-covered landscapes. Time spent building shelters and preparing campfires.
Package Includes:
All meals included
Hands-on training  and lessons in wilderness survival, safety, and travel
Warm rustic lodging on the edge of the Boundary Water Canoe Area Wilderness.
"What's for Dinner?" program at the International Wolf Center
Photographic opportunities of our ambassador wolves
---
Note: Itinerary is subject to change, and outdoor hikes and activities may vary with weather conditions.
Friday, February 8
Receive free admission to the International Wolf Center all day! Simply notify staff you are here for the program, they'll check you off their list, and you can begin exploring our facility! Enjoy our Wolves and Humans exhibit, our hourly movies in the theater, interpretive programs in our auditorium, wolf observation area, and more!
4:00 p.m. – Meet in the classroom for introductions and expectations for this weekend program
4:30 p.m. – Depart for dinner at your weekend home: Northern Tier
5:15 p.m. – Arrive at Northern Tier and get ready to enjoy dinner at the dining hall. Get to know one another!
6:00 p.m. – Discuss the sleep system, and how to properly stay warm in bed
7:00 p.m. – Gather some campfire materials and partake in campfire snacks for dessert.
8:00 p.m. – Set out onto Moose lake and howl to the resident wolf pack!
9:00 p.m. – Settle in for the night, and set up your sleep system in your rustic cabin
Saturday, February 9
7:30 a.m. – Start your day with a hot breakfast at the Northern Tier dining hall
8:30 a.m. – Begin packing down snow for your quinzee huts
10:00 a.m. – Discuss winter layering, wildlife safety, and packing essentials for long winter trips
11:30 a.m. – Return in time for lunch
1:00 p.m. – Pull supplies on a sled to flash lake to try out some snowshoeing and/or Cross Country Skiing!
4:00 p.m. – Hollow out your quinzee huts
5:00 p.m. – Enjoy a hot trail dinner at your cabins or huts
6:00 p.m. – Depart for the International Wolf Center
7:00 p.m.– Watch our What's for Dinner? program, including a feeding for our ambassador wolves
8:30 p.m. – Return to Northern Tier for campfire desserts
9:30 p.m. – Settle in for the night, return to your cabins, or sleep in your new quinzee hut
Sunday, February 10
8:00 a.m. – Enjoy a hot trail breakfast
9:30 a.m. – Pack up belongings and return to the International Wolf Center
10:00 a.m. – Wrap up with your group. Discuss ways to keep in touch, wrap up any unanswered questions. Enjoy the International Wolf Center facility during regular business hours. Visit the Wolf Den Store and find a souvenir, or enjoy a program. Programming for the Winter Expedition in the Northwoods has ended, but the facility is open until 2:00 p.m.
Save
Save
Save
Save
Save
Save
Save
Save
Save