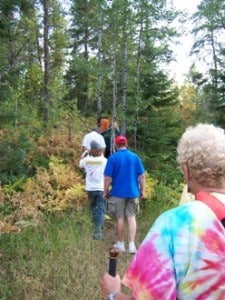 Grandparents and grandchildren unite! Learn and play together with this unique intergenerational wolf adventure offered in partnership with Road Scholar. Learn about wolf behavior by observing our resident pack, howling to a wild pack, and tracking wolves using radio telemetry just like the wolf biologists!
Sunday, June 25 – Friday, June 30, 2017
Sunday, July 9 – Friday, July 14, 2017
For more information and registration, contact Road Scholar, at 877-426-8056, or online at Road Scholar.
Limit: 28
For Children Ages: 8-12
Location: Ely, Minnesota
Road Scholar payment and cancellation policies apply.
Package Includes:
Expert instruction by Center staff
Lodging and meals
Visits to the Center to view the ambassador wolves
Numerous opportunities to experience the northwoods of Minnesota
Save
Save
Save
Save