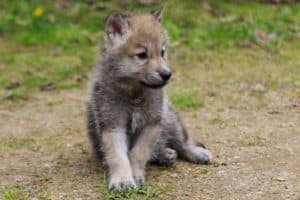 Date: June 7 – 9, 2019
Time: Friday 5:00 p.m. – Sunday 12:00 p.m.
Registration Deadline: May 15, 2019
Program Rates: Members $285*
Deposit: $100
Lodging: Lodging at the Outdoor Learning Center on Fall Lake is included. If you wish to provide your own lodging, enter NOLODGING in the promo code line of the registration form to receive a $50 discount per registrant.  
Spend a weekend learning about the plans for new pups for the Exhibit Pack and discover the skills and dedication necessary to be a pup care program participant in 2020. Tentative program activities include a trip to a local dog yard to gain animal handling experience with sled dog pups, wolf care staff narrating video highlights of the center's history of wolf management, observations of the Center's Exhibit Pack to understand behavioral modification and discussion of the detailed plans for obtaining, socializing and integrating pups into the Exhibit Pack. This program is a prerequisite program for individuals interested in applying for the limited number of Pup Care Positions available during the summer of 2020, but does not necessarily guarantee a pup care position in 2020.
* This program is reserved for individuals who have NOT participated in a pup care or behavioral observation program in the past. Participants must be International Wolf Center members to participate in the Planning for Pups program.
Download important program details [PDF] (cancellation policy, details on lodging, meals and transport, packing list and sample itinerary and Required Health Form). Read all documents very carefully. Winter wear for this program is extremely important, and must not be overlooked.
Minimum Age: 18
Location: International Wolf Center
Minimum number of participants: 4
Maximum number of participants: 16
Activity Level: Participants must be prepared to sit for periods of lecture, discussion and interact with sled dogs which may include muddy paws, jumping dogs and walking on uneven terrain
Package Includes:
Photographic opportunities during peak wolf activity
Discussions with wolf care staff on management scenarios and 2020 pup plan
Access to wolf yard and a close view of pack dynamics
Hands on experience with sled dog pups
---
Program Itinerary
Note: Itinerary is subject to change and activities may vary with weather conditions.

Friday, June 7, 2019
5:00 p.m – Check in at Center Den Store and meet at Center observation windows for program start. Intro, logistics and confirmation of meal plans
5:30 p.m – Travel to Vermilion Community College lodging – check out OLC Cabin Keys
6:00 p.m. – Introductions and Expectations
6:30 p.m. – Dinner at Center
7:00 p.m. – Historical Review of Pup Litters 1989, 1993, 2000, 2004, 2008, 2012, 2016
Saturday, June 8, 2019
7:30 a.m. – Breakfast on your own
8:30 a.m. – Meet at Center Auditorium – Behind the Scenes Tour- Wolf Yard/Lab
10:00 a.m. -Review 2016 Pup Management Plan
Noon – Enclosure Enrichment – Auditorium Windows
12:15 p.m. – Box Lunch at Center -– Working Lunch – discussing Pup Behavioral Firsts – Observation tips
12:45 p.m. – Leave for Dog Yard
2:00 – 4:30 p.m. – Site visit to sled dog yard – Behavioral development and conditioning of pups
5  – 7 p.m. – Dinner on your own
7:00 p.m. – What's for Dinner – Exhibit Pack Feeding – Behavioral Observation session
Sunday, June 9, 2019
7:30 a.m. – Breakfast on own – check out from OLC – return keys to staff
8:30 a.m. – Wolf Yard Observe Wolf Care –Continued discussion on handling issues
9:30 a.m. – Pup care plan – feeding requirements, growth rates – pup development
11:00 a.m. – Logistics, planning and application process for 2020 pup program
Noon – Program ends