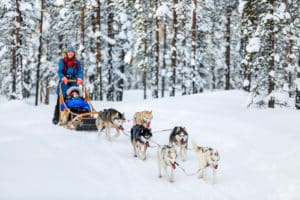 Date: January 11 – 13, 2019
Time:  Friday 5:00 p.m. – Sunday 12:00 p.m.
Registration Deadline: December 29, 2018
Program Rates:  Non-member $850, Member $800
Deposit: $100
Join International Wolf Center staff on an adventure into the north country by dogsled to learn about wolves! Start your weekend with a hot dinner and a night at the International Wolf Center observing our ambassador wolves. After a continental breakfast in the morning, begin your expedition at White Wilderness Dog Sledding by learning how to harness your dogs, and depart across the snow covered wilderness for a full day of dog sledding. Search for wolf tracks along your trail and spend a peaceful night in an insulated, heated yurt! Return by dogsled the next morning and wrap up your journey at the International Wolf Center over a hot cup of coffee (or cocoa). Bring your sense of adventure for this unique opportunity!
Download important program details [PDF] (cancellation policy, details on lodging, meals and transport, packing list and sample itinerary and Required Health Form). Read all documents very carefully. Winter wear for this program is extremely important, and must not be overlooked.
Minimum Age: 18
Location: International Wolf Center/White Wilderness Yurt
Minimum number of participants: 3
Maximum number of participants: 6
Activity Level:  HIGH, this program requires sitting or standing on a dog sled in extremely cold temperatures for several hours. Temperatures can reach -40ºF at times of extreme weather during the peak of winter in Ely Minnesota.
Package Includes:
An overnight stay at the International Wolf Center relaxing with the Exhibit Pack
A full day dog sledding trip to an overnight stay in a heated yurt.
Unique winter camping opportunity
2 hot dinners, 2 breakfasts, 1 campfire lunch.  All meals provided by White Wilderness during the dog sledding trip.
---
Program Itinerary
Note:   Itinerary is subject to change and activities may vary with weather conditions.

Friday, January 11

Receive free admission to the International Wolf Center. Use this time for self-guided exploration of the Wolves and Humans and Little Wolf Exhibits, watch a wolf-themed movie in the theater, to participate in an interpretive program in the auditorium or for observation of our ambassador wolves. The Center is open daily at 10:00 a.m.
5:00 p.m. – Meet at the International Wolf Center for introductions and program overview/expectations
5:30 p.m. – Depart for dinner at a local Ely restaurant
7:00 p.m. – Return to the International Wolf Center to discuss safety on the trail and inspect trail clothes
7:30 p.m. – Discuss the wolf-dog relationship, compare and contrast behaviors, biology, and physiology
8:30 p.m. – Discuss the history of dogsledding, why it was made, how it was used, and how it exists today.
Saturday, January 12
6:45 a.m. – Pack up personal items. Enjoy a continental breakfast on site as the sun rises
8:00 a.m. – Depart Ely to arrive at White Wilderness Dog Sledding  
9:00 a.m. – Arrival at White Wilderness Dog Sledding yard for gear inspection and harnessing/sledding lesson
-Depart on your journey via dogsled!
-Lunch on the trail
-Evening arrival at the winter yurt. Enjoy a hot dinner and settle in for the night.
Sunday, January 13
-Awake to a warm breakfast and prep yourselves and your dogs for hitting the trail again!
-Return to White Wilderness to praise your dogs, and return to the International Wolf Center
-Enjoy discussion of your adventures while watching our ambassador wolves over hot cocoa or coffee.
-Program will wrap up by early afternoon.
Explore the Center and depart at your leisure, the International Wolf Center closes at 2:00 p.m. on Sundays.
Save
Save
Save
Save
Save
Save
Save
Save
Save
Save
Save
Save
Save
Save
Save
Save
Save
Save
Save