New flagpole in Ely dedicated to former International Wolf Center employee
Anyone who bumped into Rebecca Mesa could figure out almost immediately that she was passionate about wolves. With that in mind, her career in membership at the International Wolf Center was a perfect fit.
It was a rare occasion when Mesa showed up for work and didn't have an article of wolf-themed clothing on. It was also ra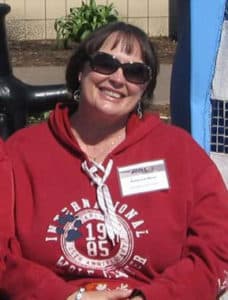 re that she'd be caught without a recent copy of the membership brochure. She'd often carry them with her in her purse and hand them out to people she'd cross paths with everyday. Mesa was so dedicated that she often used her vacation time to drive to Ely and volunteer to care for wolf pups at the Center.
Sadly, Mesa passed away in 2015.
Since then, staff at the Center have been trying to come up with a way to honor her commitment to the organization. So, earlier this year, a new flagpole in her honor as erected at the Center in Ely.
Mesa served her country in the military before retiring and coming to work for the Center part-time in membership.
"She really did a great job for us," said Rob Schultz, the Center's executive director. "She was very passionate about wolves. She always wore wolf clothing. She'd always have a copy of the membership brochure in her purse to show people. She was the biggest ambassador for the Center.
"When she passed away, we wanted to do something to remember her by."
As the old flagpole in Ely began to show its wear, the cord running to the top would often break. The buildings and grounds committee at the Center began discussions on replacing it, and that's when it was decided that getting an altogether new pole to honor Mesa would be a perfect fit.
"We thought that it was a really good way to honor her, especially with her military experience," Schultz said.
The new pole was erected in 2017.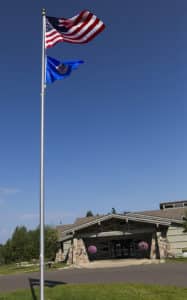 https://wolf.org/wp-content/uploads/2021/03/IWC_logo_white2a-300x127.png
0
0
Chad Richardson
https://wolf.org/wp-content/uploads/2021/03/IWC_logo_white2a-300x127.png
Chad Richardson
2017-10-16 15:36:07
2017-10-16 15:45:07
New flagpole in Ely dedicated to former International Wolf Center employee