For the past six months, staff at the International Wolf Center in Ely have been nervous. A mounted moose scheduled to arrive for the new temporary exhibit was so massive, staff weren't sure it would fit through the front door.
They also weren't sure that, if it could get in, it would fit in the exhibit space.
On Thursday, everyone breathed a sigh of relief after Taxidermy Unlimited of Burnsville delivered the moose safely to Ely and reassembled it in the new temporary exhibit, "Moose of the Bold North."
The antlers of the moose, which is from Alaska, spread more than 5.5 feet wide. The animal its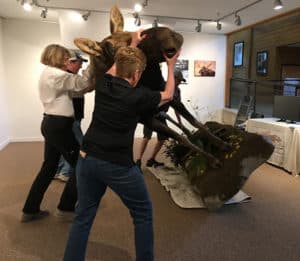 elf is almost 10 feet long andstands six feet tall at the shoulder. It will certainly make an unbelievable backdrop for summertime selfies and family photos.
"I had my doubts about fitting it through the door," said Krista Harrington, the Interpretive Center Manager. "We measured everything a couple times and were in touch with the taxidermist, but when he started sending photos of how big this moose was, I got very nervous.'"
According to a score sheet submitted by the hunter and an official measurer, the moose had a non-typical Boone and Crockett Club score of 296 4/8. The Boone and Crockett club maintains a scoring and data collection system to measure and track big game animals. The incredibly high score is due, in part, to the unique antlers found on this moose.
The mount is now at home in the middle of the Center's new temporary exhibit, which is now open to the public. The mount is surrounded by beautiful photographs of moose taken by local photographer Heidi Pinkerton. There are informational text panels, all off which aim to explain the complex relationships that exist between moose and wolves in northern Minnesota.
As prey and predators in coexistence, moose and wolves on Isle Royale in Lake Superior are the subjects of one of the most fascinating, longest-running research projects in the world. Moose arrived on Isle Royale in the early 1900s; wolves arrived almost a half-century later in 1949. For nearly 60 years, researchers have studied their population fluctuations and other aspects of their coexistence, seeking a better understanding of the ecology of predation. The new exhibit highlights this research and hints at what might happen next in the ongoing Isle Royale story.
Research on likely causes of moose population decline in Minnesota began in 2012, with data collection focused on environmental factors, calf mortality and winter survival. The results have surprised some people, as brain worms, ticks and predation have each played a role in moose population fluctuations.
Visitors will be intrigued to follow the long-running drama that continues as biologists search for answers to long-standing questions.
The exhibit will be up at the Center until April 2019. The moose mount, which was loaned by Jerry and Becky Hennessey, will then be carefully dismantled and returned.
"We're so thankful that the Hennessey family loaned us this spectacular mount for our exhibit," said Nancy Gibson, the Center's co-founder. "The taxidermist, Taxidermy Unlimited, went above and beyond to accommodate us, too. They donated a lot of their time to get the moose up to Ely for the exhibit."
https://wolf.org/wp-content/uploads/2021/03/IWC_logo_white2a-300x127.png
0
0
Chad Richardson
https://wolf.org/wp-content/uploads/2021/03/IWC_logo_white2a-300x127.png
Chad Richardson
2018-05-18 07:37:49
2018-05-18 07:37:49
Massive moose mount barely makes it through the front door at the International Wolf Center