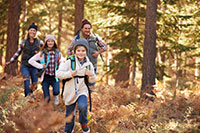 Program Rates:
$75 Adult Non-member (13 years old and older), $67.50 Adult Member (13 years old and older)
$50 Child Non-member (6-12 years old), $45 Child Member (6-12 years old)
Registration Deadline: October 3, 2020
A full weekend of family fun showcases the best of what the International Wolf Center and Ely has to offer. The Wolf Family Rendezvous program includes three days of free admissions to the International Wolf Center, private lessons about wolves, private-wolf viewing time before the Center opens and after it closes to the public, a hike in the Superior Natural Forest, a pizza dinner and admission to the popular Saturday night 'What's for Dinner?' program at the Center. After that program, spread out your sleeping bag in our auditorium and spend the night in the Center to observe the wolves overnight. We'll serve breakfast first thing Sunday, along with more private viewing time and, of course, wolf Jeopardy! Come anytime Friday and leave as early as 10 a.m. Sunday.
Download important program details [PDF] (cancellation policy, details on lodging, meals and transport, packing list and sample itinerary).
Minimum Age: 6 *must be accompanied by adult if under the age of 18
*If you are participating with children under 8 years old, to comply with Minnesota car and booster seat laws, you will need to provide your own transportation on field trips. Field trip locations are easy to get to and within 15 minutes of the Center, just follow our staff!
Location: International Wolf Center
Minimum number of participants: 4
Maximum number of participants: 14

Activity Level: Moderate: Outdoor winter hiking included with this program.
Package Includes:
Expert instruction by International Wolf Center staff
Plaster cast of a wolf track to take home (one per child)
What's For Dinner? weekly feeding program
Free admission to the International Wolf Center for the weekend
Slumber party-style sleeping in the International Wolf Center's auditorium
Pizza dinner and continental breakfast.
---
Sample itinerary – Note that outdoor hikes and activities vary seasonally.
Friday, October 16, 2020
Receive free admission to the International Wolf Center. Use this time for self-guided exploration of the Discover Wolves! and Little Wolf Exhibits, watch a wolf-themed documentary in the theater, participate in an interpretive program in the auditorium or for observation of our ambassador pack of live gray wolves. The Center is open Friday at 10:00 a.m.
Saturday, October 17, 2020
Pack some snacks for this full day of fun!  It all begins at 8:30 a.m.
8:30 a.m. – Arrive at the Center for a private lesson about the purpose and role of the ambassador wolves living at the Center.
9:00 a.m. – Wolf Adaptations program
10:00 a.m. – Learn about wildlife tracking/sign in the wilderness and make your own wolf plaster track!
12:00 p.m. – Free time for lunch on your own.  Enjoy some family time while tasting the flavors of Ely at a local restaurant and exploring the town!
3:30 p.m. – Head out into the north woods to apply your newfound skills in animal tracking and see what the Superior National Forest has to offer. This hike will include discussions on local flora and fauna and possibly some fun games!  If the snow is deep enough, we'll strap snowshoes onto our boots and learn about winter foot-travel too. Plan for a hike over uneven terrain and dress for the weather.
5:00 p.m. – Return to the Center for a tasty pizza dinner with all the fixin's! Enjoy your meal with some private wolf-viewing time.
6:00 p.m. – Sit back and relax in the theater for a special presentation of the Center's own Highlights of the Ambassador Pack film.
7:00 p.m. – Get ready to learn what wolves eat for dinner at the "What's for Dinner?" program.  An introductory lesson on wolf hunting and feeding behavior will prepare you for the weekly feeding of our ambassador wolves!
8:00 p.m. – The fun continues with outdoor "night" activities to discover the special adaptations that wolves and other wildlife have for a life of nocturnal activity. Plan to be outdoors unless it is raining or the temperature is below 10°F.
Programming ends for the day at approximately 9:00 p.m.
Saturday, October 18, 2020
7:00 a.m. – Rise and shine! Wake up to the ambassador wolves and enjoy their presence as you pack up your
overnight gear in preparation for breakfast.
7:30 a.m. – Enjoy a continental breakfast of bread goods, cereal, fruit, juices and milk.
8:00 a.m. – Take advantage of some private wolf-viewing time before the wolves settle in for their latemorning
naps.
8:30 a.m. – Wrap up your learning experience with a rousing game of Wolf Jeopardy!
Program concludes at approximately 10:00 a.m.