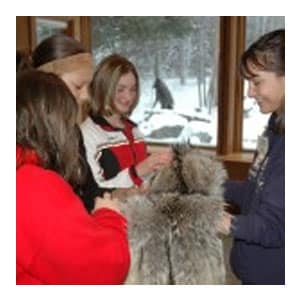 Program Rates: Non-member $40, Member $35
Registration Deadline:  July 24, 2020
Are you interested in science, biology or working with wildlife?  Join our Wildlife Career Day and meet local biologists and others who work with wildlife.  You'll get a special behind the scenes tour to learn more about our wolves and even create an enrichment activity for our wolves to try! Wrap-up your day by watching our wolves be fed their weekly meal at What's for Dinner?
Download important program details [PDF] (cancellation policy, details on lodging, meals and transport, packing list and sample itinerary and Required Health Form)
Note: If you are not a cold weather person, be sure to watch for our fall program, Wolves and Women's Weekend: Boundary Waters Adventure.
Minimum Age: 12
Location: International Wolf Center
Minimum # of participants: 4
Maximum # of participants: 14
Activity Level:  LOW – Participating in demonstrations and lessons. Some light hiking may be involved.
Package Includes: Lunch, and local program-related transportation