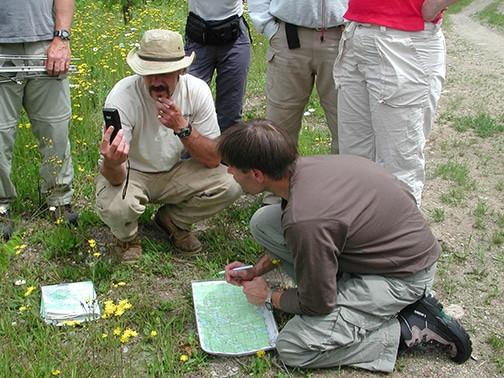 Registration Deadline: August 7, 2020
Program Rates: Non-member $135, Member $120
Have you ever wanted to experience the life of a biologist? Join us for our wolf research weekend adventure! Our program starts on Friday night at the International Wolf Center, where you'll learn what tools biologists use in the field to locate and study wild wolves. After a provided breakfast in the morning, you and Center staff will test your new skills with our telemetry equipment and then hop in our bus and begin your search for that elusive radio collar signal! Your afternoon will continue with a hike on a local trail, dinner and an evening with a view of our ambassador wolves while they feed on their weekly dinner. Wrap up on Sunday morning with a Q&A about wolf research and careers, or make-up treks into the field depending on weather.
Download important program details [PDF]  (cancellation policy, details on lodging, meals and transport, packing list and sample itinerary and Required Health Form).
Minimum Age: 13 *must be accompanied by adult if under the age of 18
Location: International Wolf Center
Minimum number of participants: 4
Maximum number of participants: 14
Activity Level: MODERATE: Hiking on (and potentially off) trail is possible for several hours. Extended time standing up and walking.
Package Includes:
On-site presentations
Hands-on training in telemetry equipment
Meals included: Saturday and Sunday breakfasts, Saturday Lunch, Friday Dinner, Chamber bucks for Saturday's dinner
---
Program Itinerary
Note:   Itinerary is subject to change and activities may vary with weather conditions.

Friday, August 21, 2020

Receive free admission to the International Wolf Center. Use this time for self-guided exploration of the Discover Wolves! and Little Wolf exhibits, to watch a wolf-themed movie in the theater, to participate in an interpretive program in the auditorium or for observation of our ambassador pack of live gray wolves. The Center is open daily at 10:00 a.m.
5:00 p.m. – Meet in classroom for introductions and expectations for this weekend program.
6:00 p.m. – Depart for dinner at a local restaurant.
7:30 p.m. – Enjoy a private viewing of the Fortunate Wilderness film, featuring research on Isle Royale.
9:30 p.m. – Bring in personal belongings and settle in for the night in the International Wolf Center's observation area.
Saturday, August 22, 2020
7:30 a.m. – Rise and shine! Pack up belongings and store them on site.
8:00 a.m. – Enjoy a continental breakfast.
8:30 a.m. – Prepare for a day of telemetry. Learn about the equipment and discuss the plan for trekking into wolf country in search of radio signals.
9:00 a.m. – Depart and begin the search!
11:30 a.m. – Lunch at the International Wolf Center.
12:30 p.m. – Return to the field for further searching.
4:30 p.m. – Depart for a hike at a local trail.
5:30 p.m. – Enjoy an evening in town. Find a delicious dinner or do a little shopping with Chamber Bucks!
7:00 p.m. – Return to the Center for our "What's for Dinner?" program and watch our ambassador wolves feed on their dinner.
8:30 p.m. – Telemetry data processing activity
9:30 p.m. – Settle in for the night.
Sunday, August 23, 2020
7:30 a.m. – Rise and shine! Pack up belongings.
8:00 a.m. – Enjoy a continental breakfast.
8:30 a.m. – Wrap-up with discussions on wolf management in North America and how it relates to ground research. End the morning with a Q & A.
Explore the Center and depart at your leisure. The International Wolf Center closes at 2:00 p.m. on Sundays.