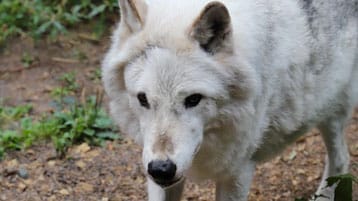 Webinar rate: $15 Non-members, $12 Members
Due to the pandemic, the International Wolf Center has added a free Friday morning webinar about wolf care. All of those additional webinars have led us to merge two separate birthday webinars into one.
Grizzer, Axel and Grayson all celebrate birthdays in May, so we've created the May Birthday Boys Webinar. Their birthdays are 12 years apart.
Grizzer will represent the oldest ambassador wolf at the International Wolf Center when he reaches 16 years of age on May 5.
Meanwhile, Axel and Grayson are the youngest pack members. They will be 4 years old on May 2.
Join us for this one-hour webinar, which will also include the weekly feeding of a deer. Wolf Care staff will be sure to save a deer leg for Grizzer.