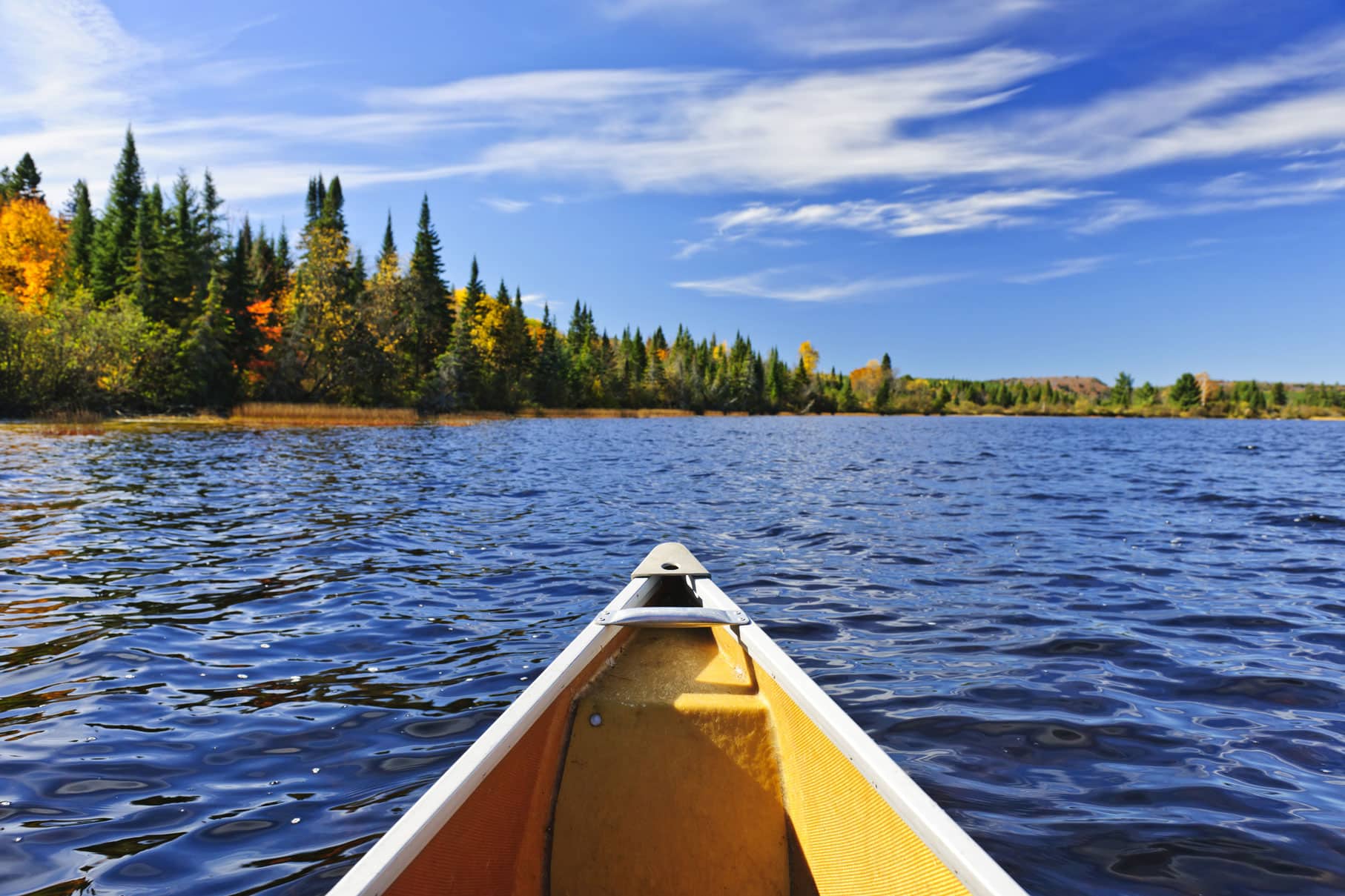 Program Rates: Non-member $700, Member $630
Registration Deadline: September 27, 2019
Deposit: $100
Spend an autumn weekend in the Boundary Waters Canoe Area Wilderness! Participants will join a member of the International Wolf Center staff and Northern Tier's wilderness guides on a camping and canoeing trip in the Boundary Waters. While you're enjoying all of the magnificence this wilderness has to offer, you'll be able to try your hand at wildlife sign identification, and mapping/GPS skills! Join us on this adventure, paddling into the heart of wolf country!
Download important program details [PDF] (cancellation policy, details on lodging, meals and transport, packing list and sample itinerary and Required Health Form). Read all documents very carefully. Winter wear for this program is extremely important, and must not be overlooked.
Download adventure equipment checklist.
Minimum Age: 18
Location: International Wolf Center/Boundary Waters Canoe Area Wilderness
Minimum number of participants: 3
Maximum number of participants: 6
Activity Level: HIGH – This program includes large amounts of canoeing, portaging, and camping for 3 days. Weather in Northeastern Minnesota can be pleasant, but at times rainy, windy, or sometimes snowy in the month of October.
Package Includes:
3 days of guided camping through the Boundary Waters Canoe Area Wilderness
Training and instruction on GPS use and field mapping
All meals
An unforgettable experience in the Boundary Waters Canoe Area Wilderness!
---
Sample itinerary – Note that outdoors hikes and activities vary with weather conditions and temperature.
Itinerary is subject to change.
Friday, October 11, 2019
Receive free admission to the International Wolf Center. Use this time for self-guided exploration of the Wolves and Humans and Little Wolf exhibits, to watch a wolf-themed movie in the theater, to participate in an interpretive program in the auditorium or for observation of our ambassador pack of live gray wolves. The Center is open daily at 10:00am.
12:00 p.m. – Meet in classroom for introductions and instructions for this weekend program
12:30 p.m. – Depart for lunch at a local restaurant!
1:30 p.m. – Depart for Northern Tier Boy Scout Base
2:30 p.m. – Prep for your voyage, check out equipment from base
Depart on your adventure into the Boundary Waters Canoe Area Wilderness!
Set up your first camp
Enjoy a camp dinner and get to know one another.
Settle in for the night
Saturday, October 12, 2019
Rise and Shine! Start your day off with a hot camp breakfast
Discuss game plan for the day, and the routes you'll be taking
Break down camp and load up the canoes
Venture into the wilderness via canoe and search for wildlife sign along the way
Enjoy a hot lunch mid day
Continue your trek, canoeing and portaging your way through the BWCA.
Set up second camp
Enjoy a hot camp dinner
Settle in for the night
Sunday, October 13, 2019
Rise and Shine! Begin the final leg of your journey with another hot camp breakfast
Plan route, and break down camp
Load the canoes with your supplies, and begin your trek back to Northern Tier
Return equipment back at base and enjoy a nice warm shower
Return to the International Wolf Center for program wrap up, and discuss ways to stay connected
Explore the Center and depart at your leisure, the International Wolf Center closes at 5:00 p.m. on Sundays