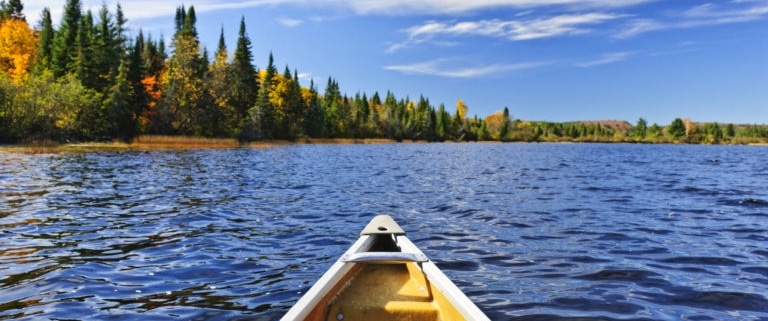 Program Rates:
Adult Non-member (18+):  $700, Member $630
Spend an autumn weekend camping in the Boundary Waters Canoe Area Wilderness! Participants will join a member of the International Wolf Center staff and Northern Tier High Adventure Base wilderness guides in the Boundary Waters. While you're enjoying all of the magnificence this wilderness has to offer, you'll be able to try your hand at wildlife sign identification and mapping/GPS skills! Join us on this adventure, paddling into the heart of wolf country!
Download important program details [PDF] (cancellation policy, details on lodging, meals and transport, packing list and sample itinerary and Required Health Form).
Minimum Age: 18
Location: Boundary Waters Canoe Area Wilderness
Minimum number of participants: 3
Maximum number of participants: 6
Activity Level:  HIGH – This program includes large amounts of canoeing, portaging, and camping for 3 days. Weather in Northeastern Minnesota can be pleasant, but at times rainy, windy, or sometimes snowy in the month of October.
Package Includes:
3 days of guided camping through the Boundary Waters Canoe Area Wilderness
Training and instruction on GPS use and field mapping
All meals