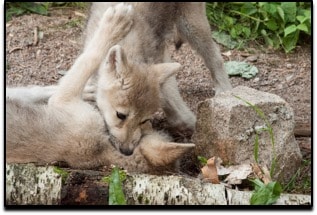 The 2020 Pup Care application process has begun!
Adding pups to the Exhibit Pack is an exciting time for us at the Center. The selection process for our Pup Care team requires us to select a dynamic group of people that will create a positive, socially engaging experience for the pups.
Download the Pup Care Program Briefing for a complete description of our program, expectations of our participants, schedules, fees and application form. This packet is required reading for participation as a pup care participant.
This program carries a prerequisite of either previous experience with the Pup Care Program, Behavioral Observation Team or the Planning for Pups seminars offered during any of the previous years (2019, 2015 or 2011), or specific knowledge of canid behavior based on employment experience.
Applications are due by February 1, 2020. Team selection notifications will be decided by March 1, 2020.
Please submit your completed application packet to kelly@wolf.org
Or mail to:
Pup Care Program
Attention: Kelly Godfrey
International Wolf Center
1396 HWY 169
Ely, MN 55731