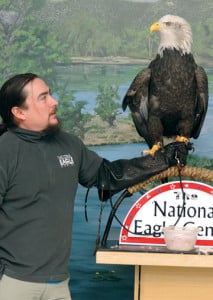 For Immediate Release-July 18, 2014
 
Ambassador Bald Eagle Visits Ambassador Wolves July 25 and 26
 
The International Wolf Center has added a new twist to its predator programming this summer with a unique presentation by the National Eagle Center.
 
"As apex predators, wolves and eagles share a mastery over their domain as well as a sense of majesty and mystery," says Kelly Godfrey, the International Wolf Center's new program director. "This is a great opportunity to learn why these two predators are so essential to our ecosystem. And, of course, there's nothing quite like seeing an eagle up close."
 
A naturalist from the National Eagle Center will present several programs during the Blueberry Arts Festival, in Ely, Minnesota. Programs covering the biology, ecology and natural history of bald and golden eagles will feature an ambassador bald eagle on July 25, at 2 p.m. and at 6 p.m., and on July 26 at 11 a.m.
 
This special program is included with the general admission fee.
 
The International Wolf Center advances the survival of wolf populations by teaching about wolves,
their relationship to wildlands and the human role in their future.
 
##